TRIM SAW MACHINE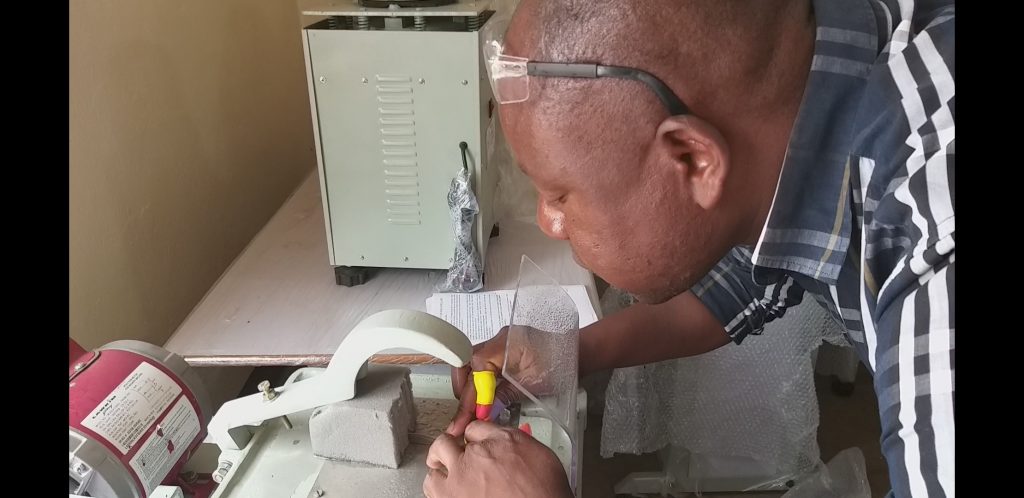 FEATURES :
 Trim Saw Machine is suitable for slicing of raw gemstone into small /desired pcs.
 The machine also performs trimming operation to remove surface impurity of the gemstone helping assorter to judge the stone accurately.
 Coolant stored in the main body of the machine is sprayed on to the gemstone by rotary force of sawing blade to maintain the desired temperature.
 The machine is suitable for slicing of all kind of gemstones from 3 to 25 mm pc.sizes
 Suitably mounted on Wooden Table with Lighting arrangement
 Splash Guard to protect operator

DUAL GRINDER FOR PRESHAPING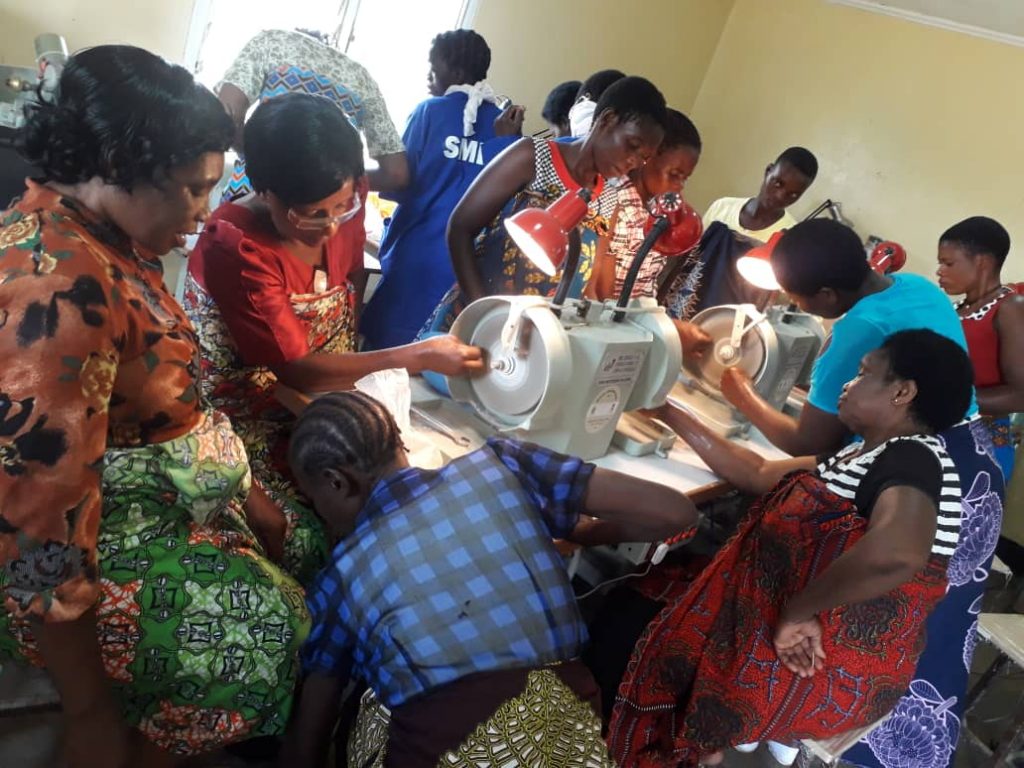 FEATURES :
 The Pre shaping Machine is a versatile & useful machine suitable for pre shaping of faceted as well as Cabochon gemstones.
 The Machine is robust & durable to perform pre shaping of small to far size pcs of all kind of gemstones from 2 mm to 100 mm
 Versatile for Amethyst, Citrine, Emerald, Ruby, Peridot, Aquamarine, Sapphire and other Gemstones .
 Four artisans can work on this machine so high productivity.
 The machine is suitable for pre shaping of Round, Oval, Pear, marquise, Octagon, Square, Heart, Trillion and other fancy shapes in various sizes.
 Supplied with Cooling & Lighting arrangement
 Mounted on Wooden Top
 Supplied with Tools & Accessories

UNIVERSAL CALIBRATION MACHINE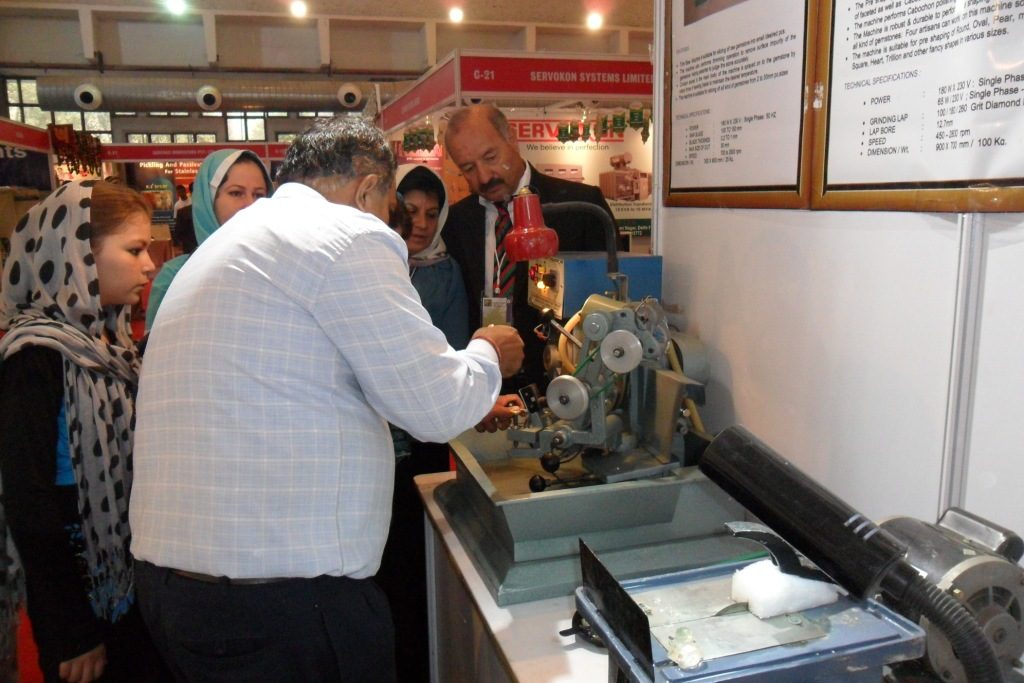 FEATURES :
 Semi Automatic Universal calibration machine is a versatile precision machine suitable for calibration of faceted as well as Cabochon gemstones.
 Can calibrate 3 to 30 mm sizes Gemstones with High +_ 0.05 mm accuracy
 The machine performs Girdle and pavilion cutting in one setting so ensure better accuracy and high productivity.
 The Automatic collet holding device and micro adjusting system of the Machine ensure the precision calibration of the pc. with close tolerance as per ICA specifications. Supplied with Coolant & Lighting arrangement
 The machine is suitable for calibration of Round, Oval, Pear, marquise, Octagon, Square, Heart, Trillion and other fancy shapes in various sizes.

CABOCHON POLISHING MACHINE
FEATURES :
 The Cabochon Machine is a versatile & useful machine for making Cabochon of small to far sizes in Round, Oval, Pear, Heart, Square, Octagon & other Fancy shapes of different gemstones.
 Four artisans can work on this machine- 2 artisans can work on Finishing operation and other 2 artisans can work on Polishing operation so highly productive Machine
 Suitable for Garnet, Citrine, Amethyst, Emerald, Tourmaline, Aquamarine and other Gems
 Supplied with Coolant having filtering partition & Lighting arrangement
 Supplied with Table, Facilities for Doping of Gems, Tools, Consumable & accessories

FACETING & POLISHING MACHINE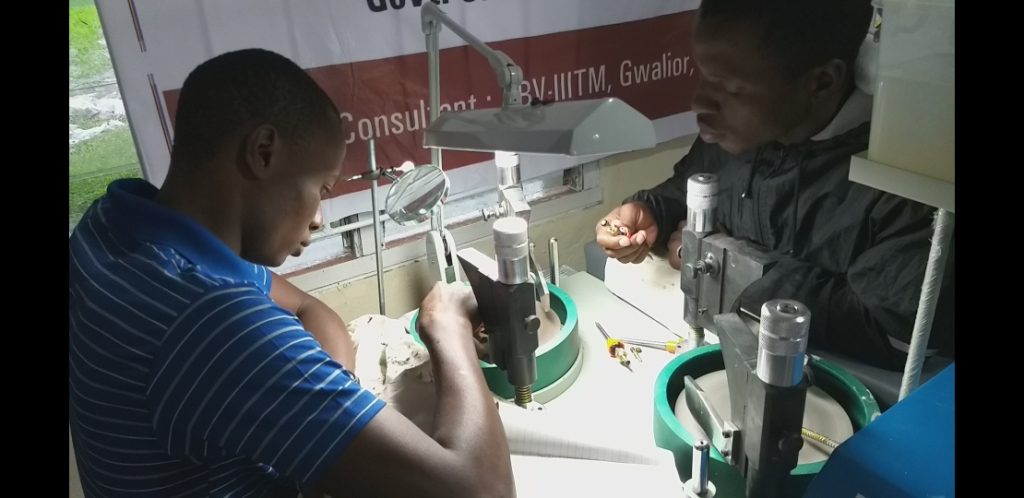 TECHNICAL SPECIFICATIONS:
 Dual Arbour & Precision and Versatile F & P Machine for Cutting & Polishing of Gemstone.
 Shape & Sizes : Round, Oval, pear, Square, Octagon, Marquoise,
Heart, Trillion, Cushion and other Shapes
 Sizes : from 2 mm to 25 mm
 Cuts : Brilliant, Step, Rose, Thai, Kamal and other Fancy
Cuts
 POWER : 180 W X 230 V: Single Phase: 50 HZ
 FACETING LAP : 600 / 1200 Grit Diamond Lap for extra fine
Cutting and pre polishing
 POLISHING LAP : Cu / Tin alloy with Diamond charged
 COLLET BORE : 6 mm
 SPEED : 500 – 2000 rpm
 DIMENSION / Wt. : 800 x 1000 mm / 45 Kg
 PRODUCTIVITY : 30-50 Pcs. / Day of 4×6 to 6×8 mm sizes.
 Facetors : 4 Nos Universal Precision Facetors mutually
synchronized
Supplied with Table for Machine and space for dopping of Gems with Tools,
Consumables & complete accessories

VIBRATORY POLISHER
FEATURES :
The vibrator is mounted on a mild steel sheet rounded into a pipe shape. It comes fitted with a motor of 1/2 h.p. 2800 r.p.m. which is fixed with weights for effecting vibrations. The main container is made of Teflon for wear resistance & scratch free performance. * The vibrator is designed for up to 4Kg. Load at one time.
Suitable for Amethyst, Citrine, Rhodolite, Garnet, Peridot, Emerald, Onyx, Quartz, Labdorite, chalcedony and other Gems in Tumble, Bead, Drops, Cabochoun & other Forms.

ULTRA SONIC DRILLING MACHINE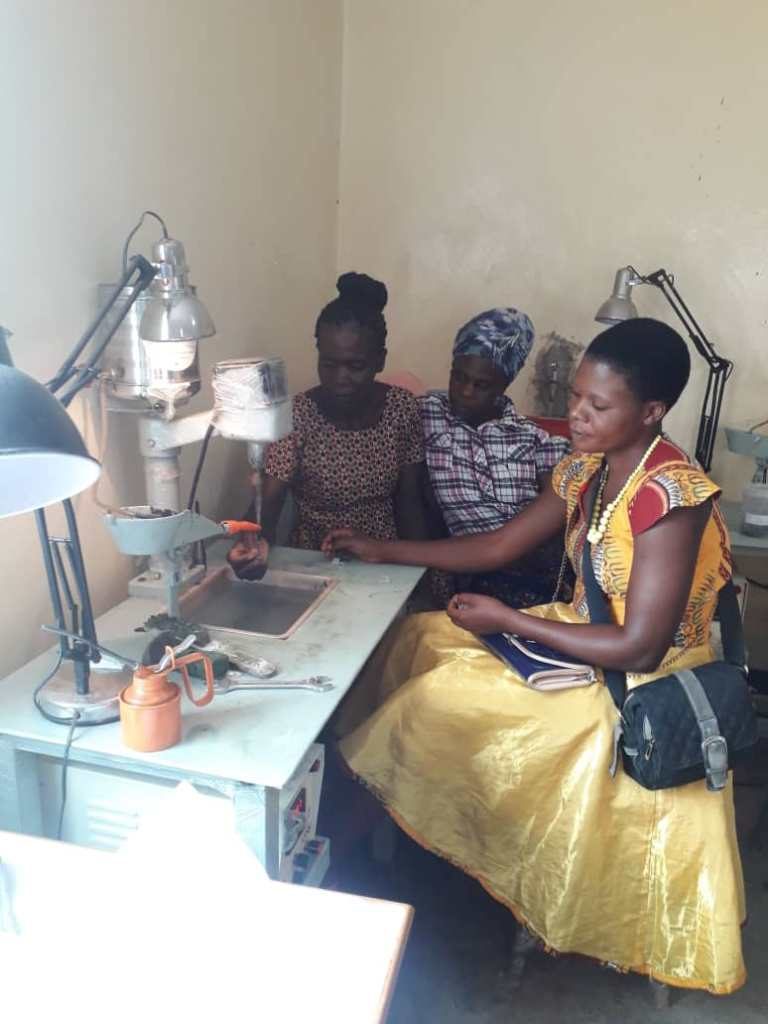 Ultrasonic drilling machines a method of brittle destruction by collision of abrasives which are forced against a work by an ultrasonically vibrated tool assisted by an appropriate clamping force. The tool vibration can be of amplitude approx. 40-80 microns with frequencies of 25 kHz, sufficient to perform effective machining. Abrasives may be carborundum, boron carbide or diamond powder depending upon each work. Rougher grits provide quicker chipping but it rougher finish, Abrasives are usually used in slurry (mixed with water).
SPECIFIC FEATURES: 1. Suitable for precise machining of any hard and brittle material; specifically drilling, Semi precious & precious stones from RH 5 to Rh 9 stones.
Drill Size from 0.50 to 2.0 mm dia. 3. Mounted with Table, supplied with Lighting arrangement,
Simple in operation even a beginner can operate the machine with ease. 5. Very low operative cost. Less than 4% weight loss in drilling on an average.
Ultrasonic Unit : 25 KHZ, 50 W, Auto Tuning
Transducers : Electrostrictive PZT
Power : AC 220 V V 50 HZ, APPROX 100VA